Whidbey Telecom Concerts in the Park
FUN FOR ALL AGES
South Whidbey Parks and Rec will be hosting its annual Concerts in the Park series weekly evenings this summer. Around 250 folks turn out each evening, taking advantage of a beautiful park setting and great music. These concerts foster strong connections, providing opportunities for our community to enjoy a high-quality evening of musical entertainment together. Don't miss out on this opportunity to catch a show! Bring a picnic dinner, grab a blanket or lawn chair, and invite your family and friends to this FREE concert series!
Wednesdays – 6:00-7:30pm, July 5, August 2 and August 16, 2023
Sponsored by Whidbey Telecom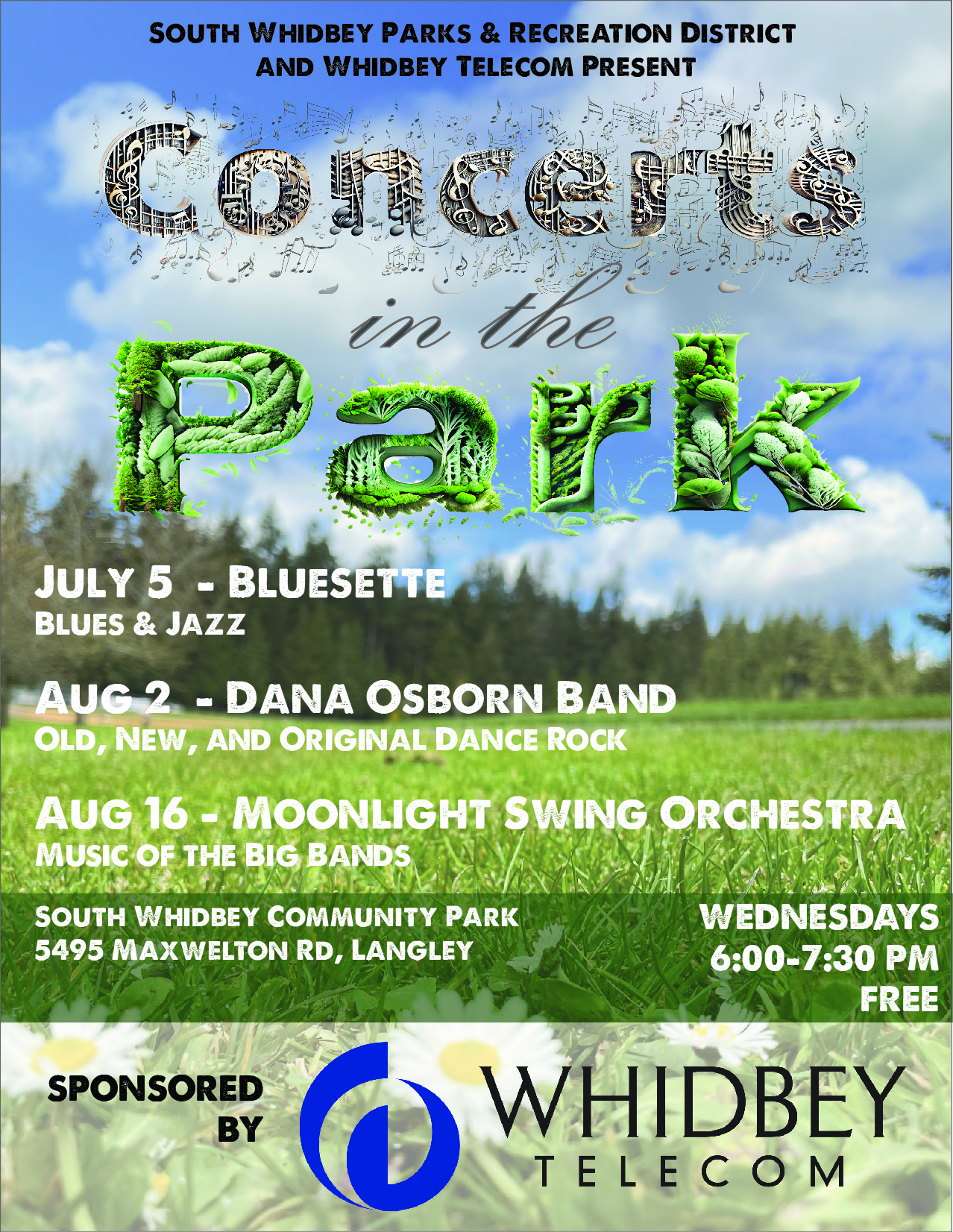 July 5 – Bluesette –  Focusing on the jazz styles of swing, blues, and bossa nova, Bluesette provides a stunning variety of musical compositions in an inspiring format. You'll enjoy listening and bopping along to this superb group of musicians. Since being formed in 2018, Bluesette has established itself as one of the premier jazz combos on Whidbey Island. The group combines the backgrounds of outstanding musicians with extensive experience as music performers and educators. The band features Bruce Gallagher; saxophone – a career music educator, director, and conductor. Gary Wittlich; piano – a former professor of music theory at Indiana University.
August 2 – Dana Osborn Band – Playing an eclectic mix of old, new, and original dance rock, the Dana Osborn Band gets everyone on their feet dancing and having a good time! A gifted multi-instrumentalist and songwriter, Dana plays Guitar, Piano, Bass, Drums, and most recently Saxophone in addition to his amazing Vocals. As a prolific Songwriter, his catalog includes well over 300 Original songs. His musical influences are numerous, but his musical inspirations include McCartney and Lennon ( Beatles), Don Henley, Kenny Loggins, Train, Black Crows, and the Eagles. Squeeze and Crowded House are easily identifiable in his songs. Known to pack clubs to the rafters in the Northwestern United States, Dana and his new powerhouse Band are making strides in building a national presence.
August 16 – Moonlight Swing Orchestra – With well over 200 years cumulative experience, the Moonlight Swing Orchestra consists of an eclectic group of musicians -instrumentalists and vocalists-many with professional experience, and the rest, talented amateurs, who all share the same love of performing this nostalgic music from the Big Bands. These friends have played together for over 15 years in the Greater Seattle and North Sound areas.  Hear the great sounds of Dorsey, Ellington, Miller, and Shaw, among others. The band is usually comprised of 17 instrumentalists and one or more vocalists. They hope you will enjoy listening and dancing to this wonderful music as much as they enjoy playing it for you.