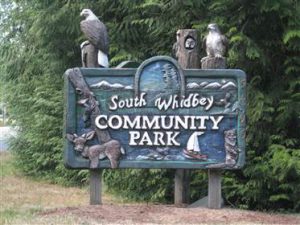 South Whidbey Community Park, and the Sports Complex are multifaceted facilities with something for everyone. At these facilities you will find:
Four baseball fields
Five variable sports fields (Soccer, Football, Ultimate Frisbee).
Two full playgrounds with covered picnic areas
The area's only skate park
Miles of trails for hiking or biking
Plenty of parking right next to the various fields, playgrounds and park areas
Concession stand in the main park area
Convenient restrooms
Park hours:  7:00 a.m. – Dusk
Map of South Whidbey Community Park and Sports Complex.
Orienteering Map of South Whidbey Community Park and Sports Complex.
Baseball/Softball Fields

Community Park has four first class baseball fields. Located off of the park main entrance on Maxwelton Road, the closely grouped fields offer an ideal site for tournaments and league play. Restrooms, parking and concessions are all conveniently located between fields 1 and 2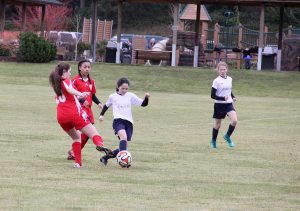 Other Sports Fields

The 'Upper' sports field is accessible via the Park's main entrance off Maxwelton. Sports fields 1 – 4 are accessible from Langley Rd. There is ample parking for all fields. These fields are used for Soccer, Football, and Ultimate Frisbee.

To reserve fields go to the facilities reservation page and follow the links to the reservation forms.
Castle Park

Castle Park is a fantasy playground come true! Safe, clean castles with towers, ramparts, swings, slides and more await exploration. Covered picnic areas are adjacent for those great spontaneous picnics and snacks to keep your kids going!

Your kids will wear off all that excess energy and have a great time doing it!
Skate/Bike Park at Community Park

The Skate/Bike Park has ledges and an open-ended bowl with a pyramid on the side and a small two-stair on the deck. The Park features stair sets with ledges and handrails, slopes with ledges surrounding them and a step-up slope. This 12,300 square foot park is open to skate boards, BMX bikes, roller blades and scooters.

The Skate/Bike Park received a '5' reader rating on Concrete Disciples web site.

A pump track is located in the dirt adjacent to the Skate/Bike Park. The pump track is open to all riders.
Trustland Trails Park
Trustland Trails Park is located near the intersection of Highway 525 and Craw Road
This 200-acre property has been in State ownership since 1895 as part of the State's "trust lands." In 2004, Whidbey Camano Land Trust, a local non-profit organization, coordinated an effort to place this property on the DNR transfer list. Public support was gathered from all over Whidbey Island. The transfer was approved in 2006 as part of a package of properties in Island County. The property was appraised by DNR at $3.8 million in May 2007. Funding was approved by the legislature in early 2007, and the property was officially transferred to the South Whidbey Parks & Recreation District June 30, 2007. Numerous trails, including an ADA trail and picnic shelter, are accessible from Craw Road.
Map of Trustland Trails Park (updated January 2021).
Trails at South Whidbey Community Park
Enjoy miles of trails for biking and hiking, accessible from both the Community Park, and Sports Complex facilities.