Aquatic Recreation Center
Join us October 5th or October 10th anytime between 5:00-7:00pm at the Parks District Office to discuss the bond and levy needed to fund this project.
Then on October 19th at 6:00pm we will be at Trinity Lutheran Church in Freeland to discuss the design and details of the center.
Ballot Measure
In July 2023 the Board of Commissioners of the South Whidbey Parks and Recreation District voted to bring a bond proposition before the voters at the November 2023 General election.  This proposition would authorize the District to issue up to $27,000,000 in general obligation bonds maturing in a maximum of twenty-nine years to build an Aquatic Recreation Center on the grounds of Community Park, and to collect excess property taxes annually to repay the bonds.
This is how the proposition will appear on the ballot in November:
PROPOSITION NO. 1
SOUTH WHIDBEY PARKS AND RECREATION DISTRICT
AQUATIC RECREATION CENTER BONDS – $27,000,000
Proposition 1 authorizes South Whidbey Parks and Recreation District to design and construct a new aquatic recreation center located in Community Park to serve residents of the District and surrounding areas.  The proposed community aquatic recreation center includes features for all ages and abilities. Amenities include lap lanes for recreational swimming and competitions, areas for swim lessons, physical therapy, water safety, water aerobics, and family swim and recreation.  Initial designs feature an indoor walking track, fitness area, multipurpose rooms for community meetings, party rentals and other activities, and to house District staff offices.
Proposition 1 authorizes funding to support the project with the issuance of up to $27,000,000 in general obligation bonds maturing within 29 years and be repaid from annual excess property taxes.  The average levy rate is estimated to be approximately $0.17 per $1,000 of assessed property value or, for a home with an assessed value of $500,000, approximately $7.08 per month.
Estimated timeline
If the bond measure is approved by the voters, construction would begin immediately.  The facility is anticipated to open to the public in summer 2025.
What is planned for this facility?
Multipurpose warm learning pool for swim lessons, water safety, physical therapy, water aerobics, water walking, core fitness, and family recreation
Multipurpose lap pool for family and lap swim, lessons, swim teams, vertical exercise, and water safety training
Multipurpose rooms for community meetings, party rentals, and activities
Multipurpose fitness area for wellness activities including yoga, Pilates, and dance
Staff offices for the Park District
Where will the facility be located?
The chosen site is in Community Park at the Maxwelton Road entrance.
The site was selected because it is:
on land already owned by the public
in a central location between Freeland, Clinton, and Langley
served by Island Transit
near the public schools
a short drive from Highway 525
closely connected to the Parks trail system, fields, picnic shelters, sport courts, and other facilities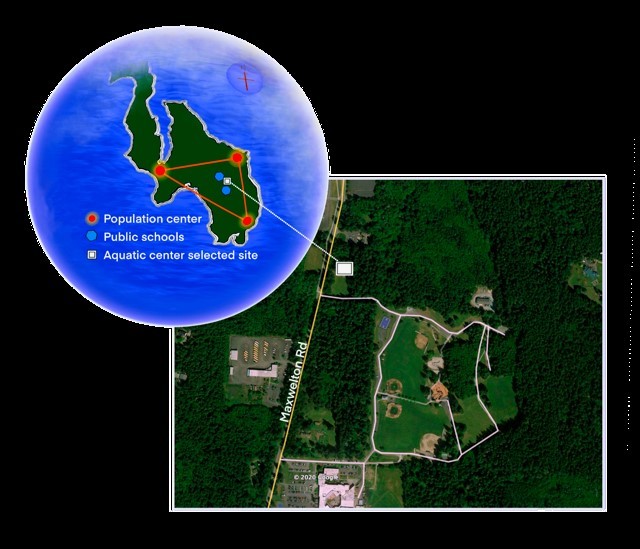 What activities are planned for the facility?
Water safety
Learn to swim
Therapy and rehabilitative services
Family recreation
Aquatic fitness
Youth swim clubs
School swim teams
Robotics and other special project activities
Special needs programs
Stand up paddleboard and kayak classes
Community functions, parties, entertainment
Day camp programs
Sports programs and camps
What about Environmental Stewardship?
One of the guiding principles for South Whidbey Parks & Recreation District operations is to develop, operate, and maintain the parks system in an environmentally responsible manner. The design, construction, and operation of this Aquatic Recreation Center will be done with clear focus on this principle of environmental stewardship.  Elements of the environmental stewardship plan include:
Siting the facility in a central location on a transit line
Developing the site in a responsible manner
Using sustainable, recyclable building materials
Building a highly insulated structure
Choosing high efficiency HVAC systems
Designing a high efficiency pool heating system
Including solar in the building design to reduce the carbon footprint of the facility
Developing wastewater, stormwater systems to recharge aquifers
Why a Bond?
A voted bond measure gives the public an opportunity to decide on funding for a large project like the Aquatic Recreation Center that is beyond normal Parks operations and maintenance.
Why now?
Survey feedback to the District tells us the community wants this project done with high priority. If the bond measure is approved construction would start immediately, and the facility is anticipated to open to the public in summer 2025.
What is the cost to the public?
The proposal on the November 2023 ballot has an estimated bond levy rate of $0.17 per $1,000 of assessed property value (based on current estimates).  The tax impact to construct the facility will vary based on each property owner's assessment, but for the owner of a $500,000 home the monthly tax impact is estimated at $7.08 and the annual tax impact is estimated at $85.  Other fundraising currently underway may reduce the size of the bond issuance, and if so, would reduce these monthly and annual estimates.  The table below estimates the tax cost for various assessed values.  Final levy rates will vary.
| | | |
| --- | --- | --- |
| Assessed Value | Monthly Cost est. | Annual Cost est. |
| $400,000 | $5.67 | $68.00 |
| $450,000 | $6.38 | $76.50 |
| $500,000 | $7.08 | $85.00 |
| $550,000 | $7.79 | $93.50 |
| $600,000 | $8.50 | $102.00 |
What will be the cost to operate and maintain?
Once built, this facility will have a cost to operate and maintain that is separate from the construction costs that will be paid with the bonds referenced above.  A portion of these costs will be covered with user fees and rentals.  The remainder will be addressed with a planned supplemental maintenance and operations levy.
This supplemental levy for operations and maintenance would not be proposed to the voters until the facility was built and ready to open, but this information is provided now in order that the voting public be made aware additional tax dollars will be required to operate and maintain the facility.
Who will operate and maintain the facility once it is up and running?
The facility will be operated and maintained by the Parks District. Currently, the Parks District rents office space from Island County. The plan to put the Parks District staff offices in the building will make the operation most cost-effective and will make this building the de facto Parks headquarters for the future.
Tell me more about the Parks District
South Whidbey Parks and Recreation District is a local government entity overseen by a volunteer group of five citizens elected by District voters. The budget to operate and maintain the Parks system is from a voted levy provided by the citizens of the District. The District operates with a small staff of three office and three maintenance employees who administer District recreation programs and maintain more than 400 acres at six park sites. Oversight of this staff is provided by the District Board of Commissioners and audits of District finances are conducted biennially by the State of Washington.
Click here to add your own text