Wreath-Making Workshop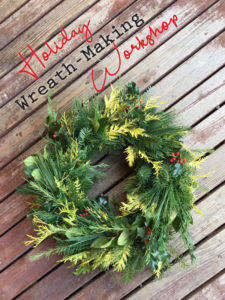 SIGN UP HERE!
ADULTS
Kick off the holiday season in this workshop where you will create a fresh and natural wreath to adorn your home. We'll provide basic instruction and supplies to create a 16-18" mixed green wreath, and you'll choose from the available greenery to make a wreath that's uniquely you. Not only will you create a wreath to enjoy this season, but you'll leave with the knowledge and components to create a new wreath the next time a Whidbey windstorm graces you with an abundance of greenery. Re-use your supplies, and this wreath becomes a free annual craft tradition.
We provide: 16-18" wreath form, wire paddle, loaner garden clippers & wire cutters, and greens: Douglas Fir to be the main base, plus a fun collection of other interesting greens.
Bring: Gloves (some loaners will be available). Wear clothes you don't mind getting pitch on, with long sleeves. Masks may be required, TBD. Proof of completed COVID-19 vaccine status required. Optional: you may want to gather unusual hardy greens, ribbon, or special ornaments to embellish your wreath.
Instructor: Carrie Monforte, Craft Dabbler, swparks@whidbey.com
Location: If weather permits, class will be outdoors, with a fire nearby for warming. If weather's not cooperating, we'll move indoors, location TBA.
Limited space. Please register by Nov. 24. Join waitlist if workshop fills, we may add another session.
Min 2/Max 6
Fri | Dec 3 | 2-4pm | $29
COVID-19 Safety and Health Screening:
Temperature Check Participants must take their own temperature shortly before arriving at the program. Stay home if you have a fever.
Stay home if you or anyone in your household have experienced any cold or flu-like symptoms (not attributable to another condition such as seasonal allergies) in the 14 days prior to the program such as: a fever of 100.4 or higher; cough; sore throat; chills; loss of taste or smell; muscle or body aches; respiratory illness or difficulty breathing; or headache. If you fall ill, please let us know. If you reply to one of our health screening questions in a way that needs more clarification, we'll have you step to the side while we get the rest of the folks checked in, then chat with you.
Stay home if you or anyone in your household been exposed to COVID-19 in the last 14 days.
Keep your distance and maintain at least 6' distance from others.
Wash your hands and/or use hand sanitizer upon arrival and departure. Refrain from touching your face.
Cloth Face Coverings May be required. We can provide disposable ones if needed.
Vaccine: Proof of completed COVID-19 status required.
Privacy Upon arrival we may ask you some basic health questions about symptoms and exposure. If you would like to discuss anything in a more private way, please call us or email before the program starts. If we are made aware that a participant, volunteer or staff person tested positive for COVID-19, fellow participants and staff who have been exposed will be notified, while maintaining privacy.
REGISTER HERE.